Todas las fotos...
Informaciones Generales : Esta referencia esta por llegar, actualmente no se encuentra en nuestras bodegas pero la esperamos al rededor de

00/00/0000

. Esta fecha puede variar debido a (envió del fabricante a menudo retrasado, retraso en aduanas, tiempo de transporte poco fiable…). Le pedimos ser consciente de estos desfases, al momento de pasar su pedido.
Su pré encargo, sera enviado de que el pago sea recibido, el mismo día de la recepción de la mercancía.
- HeadSculpt with Hat
- Cigars
- Leather-like Vest
- Western Style Striped Shirt
- Dark Jeans
- Green Fringed Shawl (Double sided pattern made of soft cloth)
- Leather Armguard
- Leather Saddle Bag
- Black Neck Scarf-Tie
- Brown Belt
- Brown Embroidered Belt & Bullet & Holster
- 1849 Navy Colt Revolver Rattler Grips
- American Buffalo Tribute Henry Rifle
- Cowboy Brown Boots with Spurs
- Body
- Pair of hands x2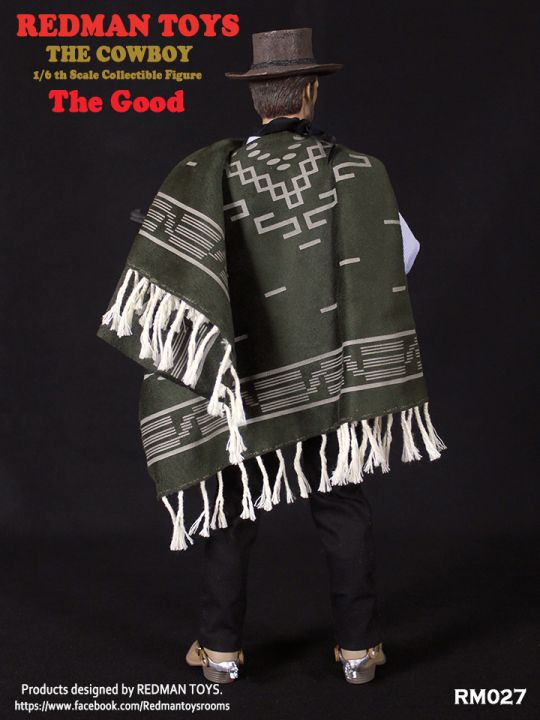 Sus comentarios de este producto
Ningún comentario
0 artículo(s)

IMPORTE :
0 €
(~0 US$)
Au tops ! sur tous ne changer rien franchement supere !....
de cris le 16/12/2017
Envoi ultra rapide,figurine Punisher sublime.
Boutique au top, merci et bonnes fêtes à toute l'équipe.
de RED le 16/12/2017
La premiere fois que j'ai acheté chez vous j'etais surpris par la rapidité de votre service. Maintenant que je suis devenus client je n'ai qu'a vous remercier: Merci les gars.
Obrigado malta, pelo vosso serviço rapido e impecavel.
Always impressed with your fast sevice. Thanks folks.
de VICTOR ALMEIDA le 15/12/2017
Todos los comentarios