Todas las fotos...
U.S.NAVY Explosive ordnance disposal mobile unit 11

Referencia : SS055


Precio : 91.658 € (~109.12 US$)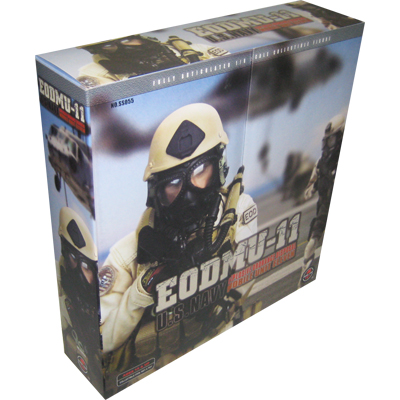 | | |
| --- | --- |
| | |
Soldier Story - U.S.NAVY Explosive ordnance disposal mobile unit 11
.MICH 2002 HELMET
.NVG MOUNT
.M FRAME 2.0 GLASSES
.SORDIN HEADSET
.WATERPROOF P.T.T
.MBITR RADIO
.M40A1 GASMASK
.C420 PAPR KIT
.FILTER CANISTER *2
.MS2000 STROBE LIGHT
.COMBAT SUPER SHEARS EMT SHEERS
.CABLE TIE *2(WHITE)
.CABLE TIE *2 (BLACK)
.CARABINER
.P226 RAIL PISTOL
.P226 MAG *3+1
.X200 LIGHT
.MK18 MOD0 RIFLE
.LMT REAR SIGHT
.552 RED DOT SIGHT
.GRIP
.AN/PEQ-15
.M3 TACTICAL RAIL GUN LIGHT
.DUAL BUTTON REMOTE
.M600 LIGHT
.M4 MAG *8+1
.HELICOPTER AIRCREW BREATHING DEVICE
.MULTI -PLIER FLIK
.CRKT'S KNIFE
.WATCH
.MK141 MOD0 FLASHBANG *4
."M" GLOVES
.S-2 BODY
.LEG KIT

.CWU 27/P FLIGHT SUIT
.CIRAS MAR VEST
.ADMIN POUCH
.PISTOL MAG POUCH
.POSTOL DUL MAG POUCH
.TRIPLE M4 MAG POUCH
.SINGLE M4 MAG POUCH
.MEDIC POUCH
.100RD 7.62 POUCH
.REMOVABLE ASSAULTER'S PANEL
.MBITR RADIO POUCH
.C420 PAPR KIT PANEL
.DULT BELT
.HABD SEA SURVIVAL AIR EGRESS POUCH
.TACTICAL FLOTATION SUPPORT SYSTEM (*1 PAIR)
.COMBAT CASUALTY RESPONSE KIT
.6004 HOLSTER
.KNEE PAD * 1PAIR
.26000 ASSAULT BOOT
.GI RAPPELLING GLOVES
.GUN SLING
.PATHES
Sus comentarios de este producto
Ningún comentario
0 artículo(s)

IMPORTE :
0 €
(~0 US$)
commande passée dimanche reçue mercredi matin très bien emballée !
excellent rapport qualité prix !
de Dominique le 21/06/2018
A little problem with my order -only my fault- was soved within hours!! Super!
de antonio le 21/06/2018
Received my orders today and everything was perfect, thanks Machine Gun, you guys are awesome and have a fantastic store!
de Rebel le 21/06/2018
Todos los comentarios